Motor Core

접기
Consisting of a stator and a rotor, a motor core plays a pivotal role in generating electricity within a motor.
We ensure that our solutions have the precision and the quality that customers need by applying advanced technologies including automated quality inspection system.
POSCO MOBILITY SOLUTION is fully committed to technological progress in line with the eco-friendly trend :
Developing embossed automatic additive cores, loose welding cores and Embo-free(EMFree) cores
Reducing the vibration and noise of rotors through use of Skew/Index additive cores
Meeting diverse customer needs through use of Self-Bonding cores for higher efficiency
Motor cores have a wide range of applications from automotive and consumer electronics to industrial devices and power tools :
Automotive motor cores are expanding their applications beyond automotive electronics to drive systems for green cars. Over 200 types are currently in use for that application.
Consumer electronics are also seeing more applications of motor cores, including Alternating Current (AC) motors and Brushless Direct Current (BLDC) motors for fridges, air conditioners, vacuum cleaners and more.
Applications of industrial purpose motor cores range from generators including water and wind power to heavy duty blowers, freezers and industrial motors.
Automotive Uses
Motor Core for Automotive Uses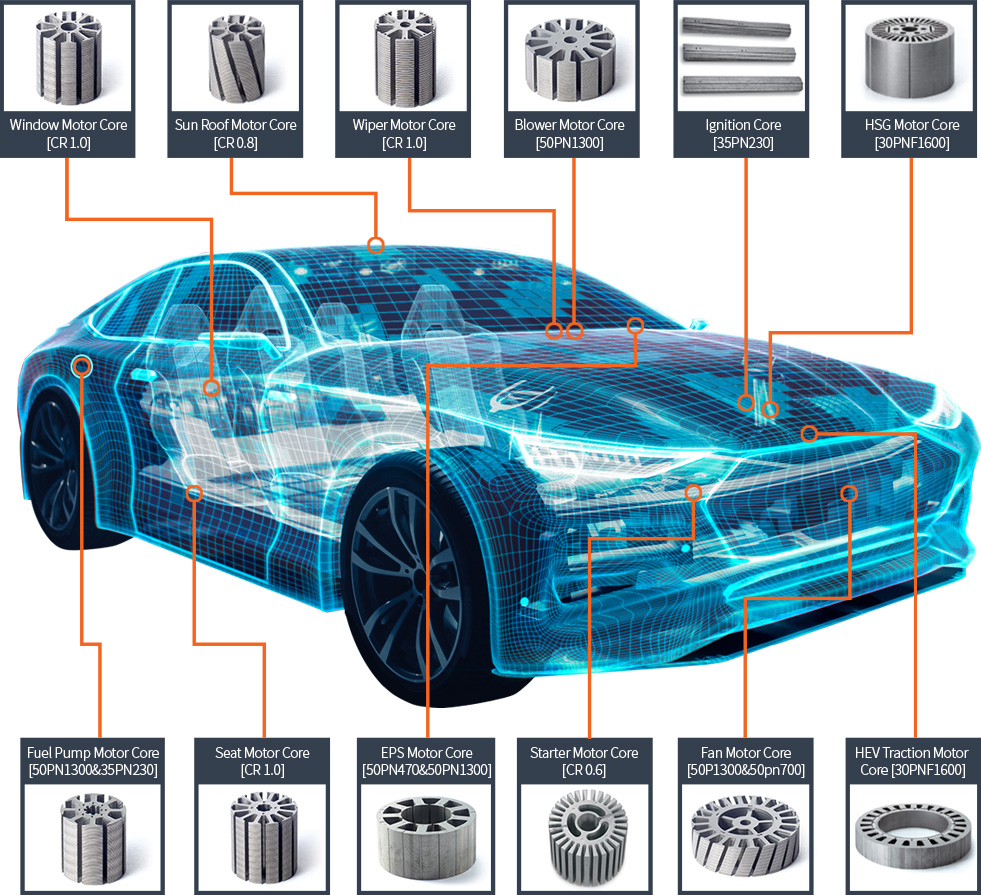 EV and HEV Motor Core
POSCO MOBILITY SOLUTION TMC Division supplies new additive technology ideal for drive motors used in next generation electric and hybrid vehicles.
It also offers components in modularized forms including magnet molding and shaft assembly to better meet diverse customer needs.

The motor cores of the TMC Division are motor cores for electric vehicles that can improve the motor efficiency, the core technology of next-generation environment-friendly cars. Based on its motor core technology, POSCO MOBILITY SOLUTION is switching its focus from electric motors to the drive motors of environment-friendly cars (HEV//PHEV/EV) drive motor, and will be instrumental to the future of global automakers.

Motor Core for Household Uses
POSCO MOBILITY SOLUTION provides the leading domestic and international electronic companies with a variety of cores needed for home appliances, such as refrigerators, air-conditioners, washing machines, and a vacuum cleaner.
The company meets growing customer needs into the products that reflect changing trends and lifestyles.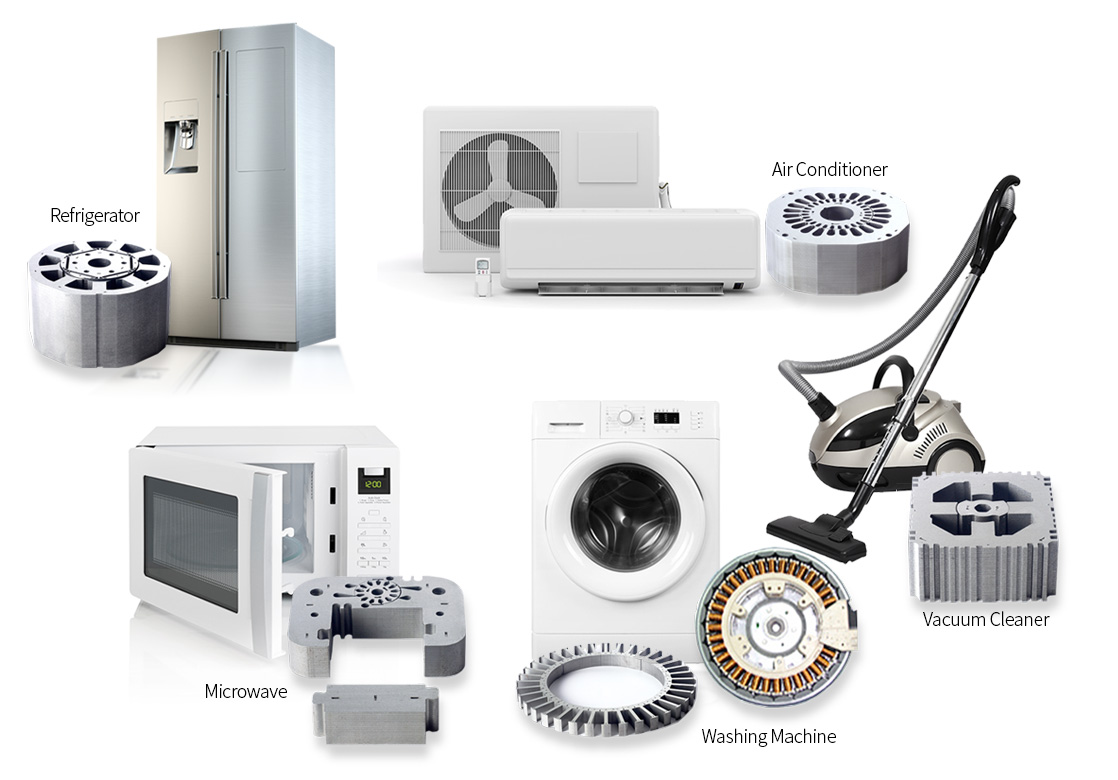 Industrial Uses
Motor Core for Industrial Uses

The wind power generator is an apparatus that converts the wind energy to electrical energy. If the wind rotates the blades of the wind power generator, the rotatory power will generate electricity.
The wind power generator consists of the blades, the transmission and the generator. The generator converts the mechanical energy, generated by the blades, into electrical energy.
Motor Core for Other Uses
It is used not only for hydroelectric and wind power generators, but also large blowers and freezers.